The Complete Guide To Sales Prospecting
Discover the templates, techniques and tools industrial companies need to make your sales prospecting strategies as effective as possible.
Download the guide for free
Sales is changing - quickly. As sales conversations grow even more buyer-focused, sales reps have begun developing their own hacks, techniques, and processes for prospecting.
That's where this guide comes in. In this growing sales landscape, we'll outline the various processes and key strategies for prospecting - the phase of selling that often consumes the most time and energy (and is the most crucial to get right). It includes: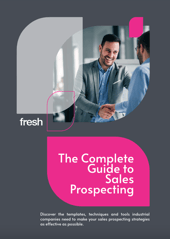 Research
Prioritisation
Prepping the outreach
The first touch
Iteration
Sales tools
Prospecting doesn't have to be a pain - and it doesn't have to be annoying for your prospects. Adopt a few of these strategies into your workflow, and enjoy better prospecting and better results.